Information Assurance: Defined, Explained and Explored
Businesses that store and exchange critical data over information networks need to be mindful of how vulnerable each individual machine can be. Whether you're supporting existing systems or designing and implementing new ones, your organization should aim to reduce the exposure to and impact of cyber risk by working within the frameworks of compliance, industry regulations, risk management and organizational policies, aka information assurance.  
As network security issues become more prevalent, information assurance (IA) has grown to be a nuanced and essential part of information security. However, implementing sound information assurance management is difficult.
Adding to the challenge is a variety of confusing terms and misnomers. Even seasoned IT pros can get confused between information assurance, cyber assurance, cybersecurity and information security. Often, these terms are used interchangeably, leading to IA bad practices. 
Let's simplify IA in order for you to evaluate your framework with ease. 
What is information assurance?
"Assurance" in security engineering is defined as the degree of confidence that the security needs of a system are satisfied.  
Information assurance (IA) is the practice of assuring information and managing risks related to the use, processing, storage and transmission of information. Information assurance includes protection of the integrity, availability, authenticity, non-repudiation and confidentiality of user data.  
Undetected loopholes in the network can lead to unauthorized access, editing, copying or deleting of valuable information. This is where information assurance plays a key role. 
Information assurance vs. cybersecurity
Information assurance predates the internet, and even though cybersecurity falls under the umbrella of IA, both play different roles in network security.   
Focus
IA focuses on risk management and comes up with guidelines for keeping information secure, whether on physical (hard drives, PCs, laptops and tablets) or digital (cloud) systems. Cybersecurity focuses on setting up resilient network architecture to secure digital assets from unwarranted access.
Scope
IA is concerned with the business aspect of information. As a result, the scope is broader. Cybersecurity deals in the nitty-gritty to protect everything. As a result, the scope is more detailed.  
Approach
IA is strategic, dealing with policy creation and deployment to keep information assets secure. It understands how an organization engages with information, the value of the information and how exposed that information happens to be. Cybersecurity is technical, dealing with security controls and tools to defend against cyberattacks.  
Resources protected
IA protects data and information systems and includes both physical and digital data. Cybersecurity protects all digital investments, which include information, infrastructures, networks and applications. 
Information assurance vs. information security
The NIST defines information security as the process of protection of information and information systems from unauthorized access, use, disclosure, disruption, modification or destruction in order to provide confidentiality, integrity and availability.  
The differences between information assurance and information security are more than just semantics.  
Focus
Information assurance focuses on quality, reliability and restoration of information. Information security focuses on deploying security solutions, encryption, policies and procedures to secure information.  
Approach
IA is not concerned with the specific technology or tools used to protect information. Rather, it is centered around developing policies and standards. Information security directly deals with tools and technologies used to protect information. It's a hands-on approach that safeguards data from cyberthreats.  
Scope 
IA stresses organizational risk management and overall information quality. As a result, IA has a broad scope. Information security stresses risk control and agreement. As a result, information security has a detailed scope. 
Still not sure about the difference between information assurance, security and cybersecurity?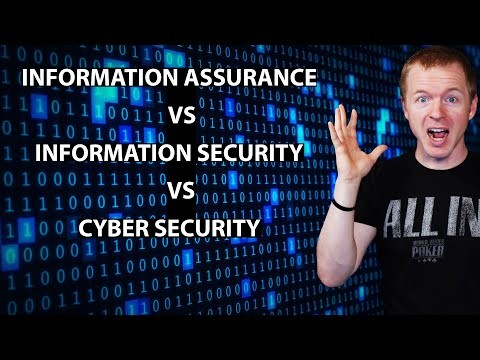 What is the goal of information assurance?
The purpose of IA is to reduce information risks by ensuring the information on which the business makes decisions is reliable. This purpose is achieved by following:
Risk management: Businesses face legal fines and penalties if the information in the network is compromised. IA enables risk assessment to identify vulnerabilities and the potential impact on the business in terms of compliance, cost and operational continuity. The goal is to mitigate potential threats.
Encryption at rest and in transit: IA mandates end-to-end encryption to protect privacy by ensuring no human or computer can read data at rest and in transit except the intended parties. The goal is to help businesses stay compliant with regulatory requirements and standards.
Data integrity: Bad business decisions usually stem from bad data. IA focuses on auditing data collection and tracking process, improving transparency in the organizational process. The goal is to manage data in a way that a future audit can retrace the process, leading to better decision-making. 
Why do we need information assurance?
Adopting good IA best practices provides several benefits: 
Operational benefits:

Resilient business processes
Improved customer service
Better information usage
Improved responsiveness

Tactical benefits:

Easy compliance
Better understanding of business opportunities
Commitment from business partners and customers

Strategic benefits:

Better governance
Cheaper equity
More sales
Lower costs

Organizational benefits:

Improved shareholder value
Gain competitive advantage
License to operate 
How does information assurance work?
Information assurance is a strategic endeavor that extends beyond simply IT. The reality is that the legal and reputational ramifications that ensue from a data breach affect the entire organization. A proper security framework helps protect your organization and customers. IA is a work in progress that includes:  
Strategy: Develop Governance, Risk and Compliance (GRC) readiness by evaluating maturity as compared to your peers. Utilize key use cases to identify gaps and build roadmaps. Rationalize and prioritize GRC initiatives by aligning the essential requirements of your information and infrastructure with the organization's objectives.
Design: Design GRC programs and models to align with organizational policies. Exposures and risks should be quantified and classified to evaluate defined metrics. Once established, use these findings to define mitigation steps to manage risk and optimize speed, accuracy and efficiency of resolution.
Implementation: Implement processes, policies, controls and technology that monitor operations against key metrics. Measure potential exposures in personnel, processes and technology controls in the context of IT infrastructure interdependencies.
Operations: Mitigate exposures through continuous enforcement of policies. Detect violations and measure outcomes in comparison to your desired state. Use these learnings to continuously improve processes to maximize synergies and optimize outcomes.
Who is responsible for information assurance?
Conventionally, IA is seen as an incoherent function that is solely exclusive to the IT department. The reality is that the legal and reputational ramifications that ensue from a data breach affect the entire organization. It is essential to create a security-centric culture from top to bottom, with a focus on complying with information security regulations.
What are the five pillars of information assurance?
The CIA triad is considered the first model of information assurance introduced to define effective practices of assuring information security and integrity. Here are the following five pillars of IA that make information networks safe against all threats:  
Integrity (protection of information systems and assets)
Availability (dependable access to information systems by authorized users)  
Authentication (the process of restricting access and confirming the identity of users)  
Confidentiality (restriction of access to authorized users only)  
Non-repudiation (forensic tracking to create a reliable "paper trail" of all actions)    
Integrity
Information sent should always remain in its original state. Integrity means tampering or modification by bad actors should not occur. Therefore, the primary goal of this pillar is to set up safeguards to deter threats.  
Availability
Easy data access helps users seamlessly access important information to perform critical tasks. Availability means those who need access to information can do so. Therefore, the primary goal of this pillar is to ensure systems always remain fully functional.   
Authenticity
Verify the identity of a user (device) before allowing them to access data with methods like two-factor authentication, password management, biometrics and other devices. Authenticity means ensuring that those who have access to information are who they say they are. The primary goal of this pillar is to prevent identity theft.  
Confidentiality
Protect private information from getting exposed by any unauthorized users, systems or networks. Confidentiality means data should be accessed only by those who have proper authorization. Therefore, the primary goal of this pillar is to avoid IP theft or the compromise of Personal Identifiable Information (PII) of customers.  
Non-repudiation
It is important that the information system is able to provide proof of delivery to confirm that the data was properly transmitted. Non-repudiation means someone with access to your organization's information system cannot deny having completed an action within the system, as there should be methods in place to prove that they did make said action. The primary goal of this pillar is to guarantee that the digital signature is that of the intended party, thereby granting authorization to the protected information. 
Information assurance and security with Unitrends
Unitrends Unified BCDR solutions are augmented with artificial intelligence and automation to ensure and execute the protection of information against ransomware and other cyberthreats.  
Role-Based Access Control (RBAC): Restrict user access at the appliance, asset and task level.   
Volume and File Encryption: Enable or disable encryption on a per-client basis, modify passphrases as needed and ensure data remains encrypted from beginning to end for local or off-site backup copies.   
SSAE 16-Certified Tier 3 Cloud Data Centers: Our cloud data centers are SSAE 16-certified. The Unitrends Cloud is also compliant with Service Organization Control (SOC 2) and the Health Insurance Portability and Accountability Act (HIPAA). 
Integrity
Encryption: Our backup and recovery solutions use AES 256-bit encryption to secure and protect your sensitive data.  

Recovery Testing: Unitrends Recovery Assurance automatically performs the highest level of application recovery testing with no IT time or effort.   

Hardened Linux Backup Appliances: Unitrends backup appliances are built on a hardened Linux platform that is ransomware resistant, unlike weaker Windows-based backup.  
Self-Healing Backup: Identify and fix the most common backup problems without you having to lift a finger. Helix learns what conditions it should look for and how to fix them automatically.  

Instant Recovery: Recover a failed or corrupted virtual machine or physical Windows server and access its full data set in just a few minutes.   

Replicas: Recover a failed VM or server image from a standby replica with a near-zero RTO.   
Want to see how Unitrends Unified BCDR can help enhance your data security posture? Request a demo today