BCDR Leader Innovates Again with ION and ION+ Backup Appliances
For more than three decades, Unitrends backup and disaster recovery solutions have helped tens of thousands of organizations worldwide achieve their BCDR goals. As a leader in BCDR, we constantly strive to meet and exceed the demands of a rapidly changing data protection landscape.
Over the last few months, we have been tirelessly working to present our enterprise-grade BCDR in a way that optimizes space savings without sacrificing power. The big day has finally come! Unitrends is pleased to announce that we're kicking our enterprise backup and recovery up a notch with our new ION Series backup appliances. "Small but mighty," the ION Series is the latest addition to our family of purpose-built backup appliances. ION delivers our industry-leading backup technology in two non-obtrusive, ultra-quiet desktop form factors.
Introducing the Unitrends ION Series (small but mighty!)
The latest backup appliances from Unitrends, the ION Series, boast enterprise-proven data protection capabilities in two desktop form factors. The first is the ION — roughly the size of an Apple TV — built in a micro desktop form factor with Non-Volatile Memory Express (NVMe) solid state drives and no moving parts. This design keeps the physical footprint and noise of the ION to a minimum, perfect for small offices or locations that don't have a full server room. Should you need additional computing power to spin-up instances directly on the appliance, the ION+ is your go-to solution. ION+ appliances use a small desktop tower form factor with ultra-quiet drives, fans and noise dampening materials to keep noise pollution to a minimum. Equipped with robust on-appliance recovery capabilities, ION+ appliances are supercharged with extra CPU and memory to deliver full-service backup and recovery through a single, discreet appliance.
Preconfigured hardware and integrated backup software on ION and ION+ appliances make deployment easy – unpack, connect and set up in just a few clicks. ION series appliances are compact in size but pack a serious punch. SLA policy automation streamlines backup scheduling and our built-in software enables the ION series to run Unitrends Recovery Assurance, our automated application-level recovery testing to prove your recovery point objectives (RPO) and recovery time objectives (RTO) are being met.
These hardened Linux appliances secure backups outside of the Windows attack surface and detect ransomware via our AI-based predictive analytics engine. Two-factor authentication (2FA), role-based access control (RBAC) and AES 256-bit encryption protects data from unwarranted access. ION appliances integrate with Unitrends Forever Cloud to offer immutable offsite storage, long-term data retention and Disaster-Recovery-as-a-Service.
Utilize our SaaS-based management platform UniView with your ION appliance(s) to enable UI and API integrations across a global management pane. UniView's intelligent alerting cuts through the noise so you can focus on issues that would directly impact your recovery SLAs. As your environment evolves, UniView cuts down on management time by unifying our best-of-breed approaches to backup and recovery under a single interface: Unitrends backup appliances, direct-to-cloud endpoint backup and SaaS backup.
Comparison between ION Series and Recovery Series
Here's how the ION Series stacks up with our Recovery Series backup appliances: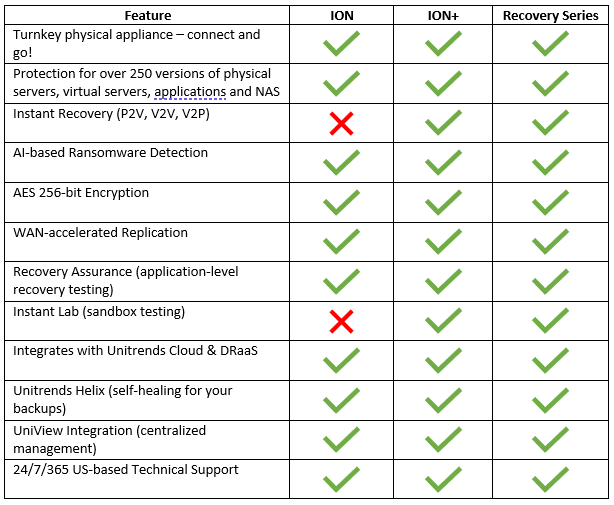 Figure 1: Comparison between ION Series and Recovery Series
We are thrilled to extend our Unified BCDR platform to these new form factors to deliver small but mighty business continuity solutions. As with all Unitrends solutions, the ION series is backed by our 24/7/365, award-winning, U.S.-based customer support. If you're interested in learning how you can leverage the ION Series to deliver complete, automated and resilient data protection, get in touch with us today!