Tech Trends & Insights 2022 Survey Report — Highlights and Key Takeaways
The Tech Trends & Insights 2022 Survey Report focuses on the priorities, concerns and approaches of IT professionals worldwide to managing their technology stack to support hybrid workforces in a digital global economy. Over 650 IT professionals around the world participated in the survey.
For the purposes of analyzing and reporting our findings, we have amassed much of the data by employee count, categorizing respondents into two groups: small and midsize business (SMB; less than 1,000 employees) and mid-market enterprise (MME; more than 1,000 employees) organizations.
Let us look at some of the key findings from the Tech Trends & Insights 2022 Survey Report. You can download a free version of the full report at any time.
Top IT priorities
Organizations jumped at the opportunity to leverage hybrid environments to maintain continuity during the pandemic. For many, adoption was greatly accelerated. Now as the dust settles, respondents indicated a heightened emphasis on ensuring the security of these platforms and the users within them.
Phishing awareness — More than one-third of all respondents cited "phishing awareness" as their top priority for 2022. Involved in more than 40% of all cybersecurity incidents, phishing remains one of the most prominent attack vectors today.
Data privacy and protection — 21% of SMBs and 29% of MME organizations cited data privacy and protection as their top priority.
| | | |
| --- | --- | --- |
| Top Priority | SMB | MME |
| Phishing Awareness | 37% | 36% |
| Security Best Practices (e.g., password protection) | 27% | 19% |
| Data Privacy & Protection | 21% | 29% |
| Compliance | 14% | 15% |
Top IT security threat
The new technologies (e.g., SaaS applications) introduced due to the shift to the hybrid business model, in turn, launched new threat vectors. Facilitated by this paradigm shift, threat vectors that had fallen out of prominence woke up from slumber too.
Phishing attacks — Both SMB and MME organizations consider phishing attacks as one of the most prominent threats to their business. More than half of all the respondents cited phishing/email fraud as their topmost concern.
Specter of ransomware — 22% of SMBs and 25% of MMEs have specified ransomware attacks as their organization's primary IT security threat.
| | | |
| --- | --- | --- |
| Top Security Threat | SMB | MME |
| Phishing / Email Fraud | 53% | 52% |
| Ransomware | 22% | 25% |
| Password Compromise | 14% | 15% |
| Account Takeover (ATO) attacks | 8% | 6% |
| Other (i.e., malicious insiders) | 1% | 2% |
Data breaches within the last year
Most of the respondents regularly conduct security awareness training (77% of SMBs and 81% of MMEs) and utilize multiple tools in tandem with training to wear off the danger of cyberthreats. Despite such efforts, 14% of SMBs and 27% of MMEs reported to have suffered a cyberattack within the last year.
Of all the cyberattacks in the last year, 60% of attacks against SMBs and 35% of attacks against MMEs occurred in the last six months.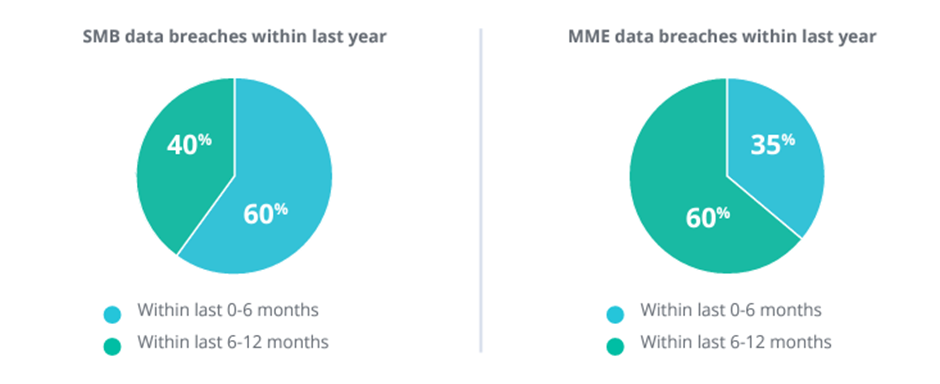 Majority of reported breaches affected organizations with network monitoring capabilities and regular end-user security awareness training, suggesting the majority of these attacks are originating externally and can penetrate the network via increasingly sophisticated social engineering attacks.
If hit by ransomware, we would…
In the event of a ransomware attack, SMBs show a more positive attitude than their MME counterparts. SMB respondents reported higher confidence in ransomware recovery, whereas MMEs cited they are more likely to pay a ransom (six times as often as SMBs).
Confidence in recovery — 30% of SMBs and 26% of MMEs reported full confidence in ransomware recovery.
Cyber insurance — To prevent future cyberattacks, MMEs are keener on considering cyber liability insurance than their SMB counterparts.
| | | |
| --- | --- | --- |
| Ransomware Attack Sentiments | SMB | MME |
| Likely recovery, but with downtime & data loss | 64% | 61% |
| Full confidence in recovery | 30% | 26% |
| Consider paying the ransom | 1% | 6% |
| Be in big trouble | 3% | 5% |
The cost of mitigating a data breach soared to $4.25 million on average, a 12.7% increase in the last two years. The cost can be brought down with cyber liability insurance but having a business continuity and disaster recovery (BCDR) strategy is crucial. It helps restore operations in the aftermath of an incident.
More than 80% of all the respondents, who reported complete confidence in ransomware recovery, can failover operations to a secondary site. This signifies the importance of a reliable backup system. A resilient BCDR strategy is vital for organizations to not only thrive in this cyberthreat-laden environment but to succeed in 2022 and beyond. With Unitrends Unified BCDR, you get a robust backup strategy that mitigates the risk of cyberattacks and allows you to continue critical business operations with little or no interruption.
A better understanding of the current state of IT security, cyberattacks and BCDR is crucial for an organization to keep pace with the evolving technology landscape. For detailed insights on how businesses are adapting their data backup and disaster recovery approach to support today's hybrid workforces, get your copy of the report.