Demand for IT services has increased dramatically as environments evolve to support hybrid work in an always-on global market. Improving operational efficiencies is key to keeping pace with the demand without drastically increasing IT cost. Some examples include automating IT processes, such as patch and vulnerability management, and using remote monitoring and management (RMM) tools to deploy and administer antivirus, antimalware, and backup and disaster recovery solutions.
To boost IT efficiency, the Unitrends Backup Portal provides a singular interface to monitor and manage all of your Unitrends appliances via a central dashboard. Feature-specific pages and views make for seamless navigation, conditional alarms help cut through the noise by alerting you to issues that directly impact your backup-related SLAs and two-factor authentication (2FA) provides an additional layer of security.
Centralizing management through the Backup Portal is a great start — we're taking things a step further with this latest integration.
Introducing Unitrends' integration with Kaseya VSA
Unitrends is excited to share with you one of our latest integrations with Kaseya's Virtual Systems Administrator (VSA) — a unified RMM tool. VSA enables IT to maximize efficiency, enhance security and reduce cost with an RMM platform purpose-built to manage all essential IT functions through a single pane.
This workflow integration with VSA provides IT with a central location to manage your Unitrends appliances from within the Kaseya VSA platform (see figure 1). You can use this to:
Gather an overview of all backup jobs and backup results
View the current status of backup storage utilization
Centralize critical alerts and conditional alarms* from your backup appliance(s) alongside other VSA notifications

Email reports from VSA are configurable

Generate reports about backup job status and backup storage
*Conditional Alarms (see figure 2), powered by BackupIQ, enable you to filter through the clutter and prioritize alerting based on issues that directly affect SLAs (e.g., failed backups and/or failed replication).
Figure 1: Managing VSA integration settings from UniView
Figure 2: Customize alert settings for conditional alarms (alerts and/or email notifications to specified recipients)

If you have added a VSA integration to your UniView portal, VSA agent information is displayed within UniView under Backup > Backup Status > VSA. This view shows all VSA machines added to your backup instance that are running the VSA agent. VSA machines can be easily mapped to Unitrends assets to identify them within your Unitrends Portal environment.
Integrating with VSA's Live Connect allows you to establish a remote connection to an individual machine directly from your Unitrends portal.
It's not uncommon for IT professionals to work more frequently with an RMM tool such as Kaseya VSA than going into their backup environment. This integration enables IT to centralize alarms and reporting into VSA alongside other alerts and notifications while Live Connect enables you to perform maintenance, troubleshooting or other actions (see figure 3).
Figure 3: Launching Kaseya Live Connect from VSA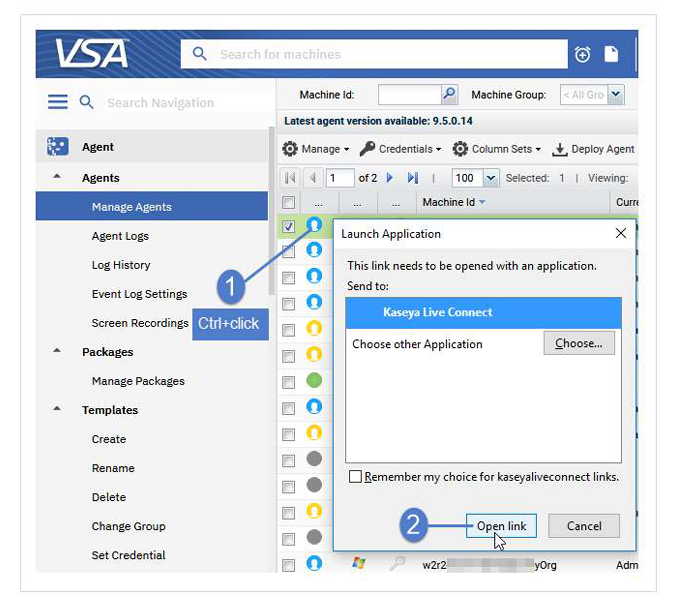 Check out chapter 3 of the Unitrends Backup Portal Guide for step-by-step instructions for setting up the Unitrends and VSA integration.