Unitrends UniView: Redefining Efficiency With a Single View
The transition to the cloud enabled businesses to stay afloat when they were forced to operate remotely. Cloud computing today has become a critical part of modern businesses, leading to the rise of hybrid IT environments.
With the hybrid work model becoming the new norm, data now lives in more places than ever before — on-premises, in remote workers' machines, private clouds, public clouds (Azure/AWS) and cloud-based SaaS applications like Microsoft 365, Google Workspace and Salesforce. As such, conventional data protection and management methods may not work as well as they used to. Different data sources (data center, SaaS and endpoints) require different approaches to optimize protection. For example, an on-premises appliance approach isn't necessarily the best fit to protect data in the cloud since you would have to upload and download data over the WAN.
Most organizations today rely on multiple, disparate solutions to support distributed workforces and their scattered data. However, multiple-point solutions increase management time and complexity, making data protection extremely challenging. IT professionals must constantly switch between interfaces/products to manage data backups and recoveries, repeatedly enter credentials each time they log in to a different solution and spend a lot of time understanding the nuances of each solution they use. This makes data protection in the hybrid era cumbersome and significantly impacts productivity.
Simplify data complexity with Unitrends UniView
As IT infrastructure grows in complexity with the emergence of hybrid and multicloud strategies, protecting your data and smoothly running business operations has become increasingly challenging, costly and time-consuming.
Unitrends UniView unifies our best-of-breed backup and recovery solutions with a centralized management console. This provides IT professionals with a single window into their entire business continuity and disaster recovery (BCDR) world, enabling them to manage all their approaches to backup in minutes, regardless of where the data lives.
UniView is a free SaaS-based management platform that provides UI and API integration across three best-of-breed approaches to backup and recovery, combining Unitrends Physical Backup Appliances, Unitrends Virtual Appliances, Spanning Backup for Microsoft 365, Google Workspace and Salesforce, and Unitrends EndPoint Backup into a singular, centralized management pane.
UniView is modular in design — simply start with what you need (Unitrends appliances, Spanning SaaS Backup or EndPoint Backup) and easily add additional modules as per your needs or environment.
Figure 1 shows how you can centrally manage the various modules within UniView as you add them to your BCDR stack. The navigation pane on the left enables users to jump between solutions easily.
Other benefits include:
Multifactor authentication that ensures only authorized personnel has access to your corporate devices and sensitive data.
Centralized management (Single Sign-On for Spanning and EndPoint Backup and reverse proxy for management of Unitrends appliance(s)).

BackupIQ intelligent alerts that help cut through the clutter by enabling you to prioritize issues with rule-based alerting, so the most critical issues are addressed first.

Easy management of automatic updates across your deployment from one place with Helix.
Seamless management of integrations with other tools (see Figure 2).

Centrally manage integrations with documentation tools such as IT Glue, and create tickets in your PSA tools, such as Kaseya BMS, Autotask and ConnectWise Manage.
Figure 1: UniView Dashboard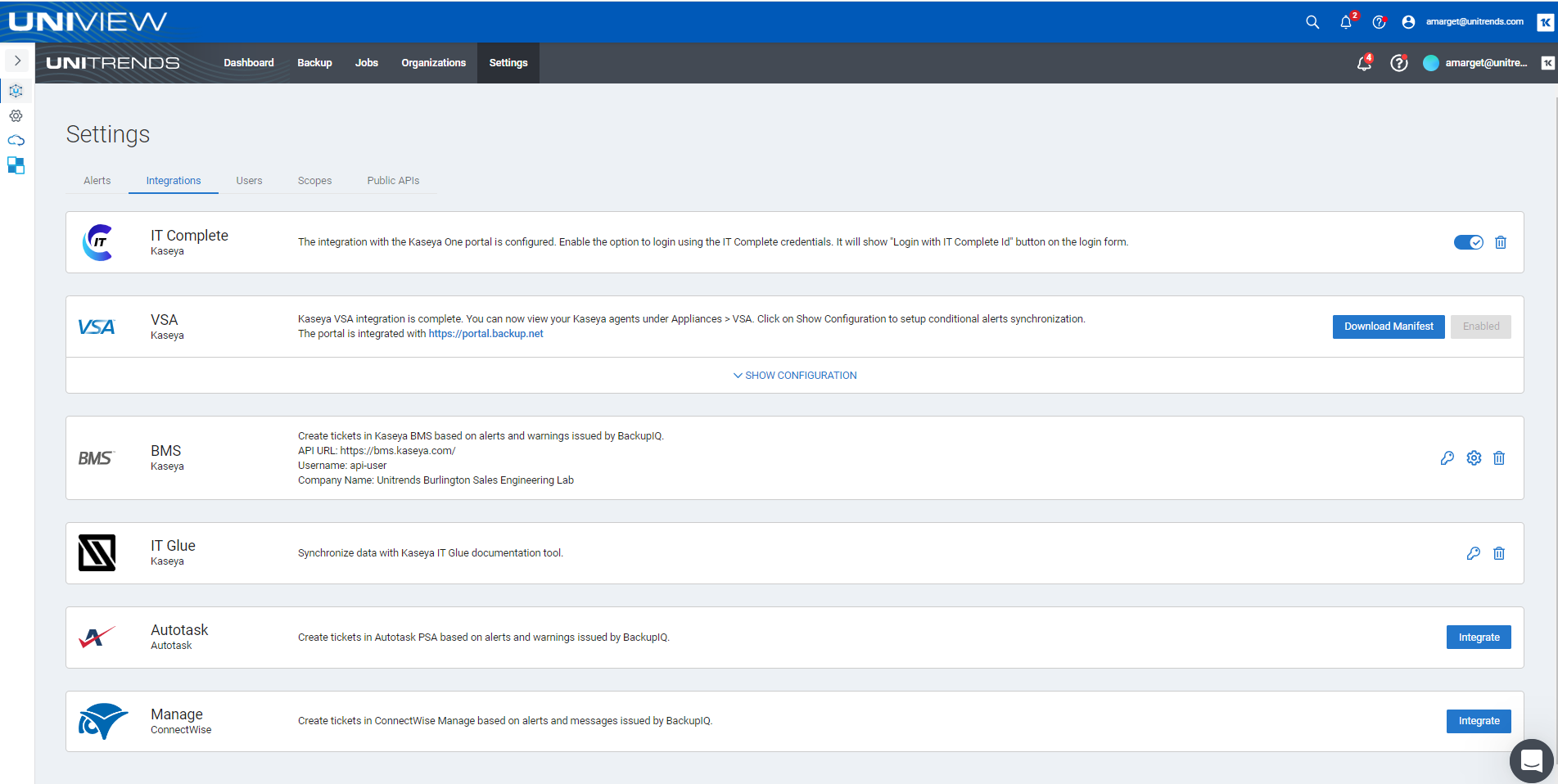 Figure 2: UniView Integration Settings
Visit our website or download the data sheet to discover how UniView helps drive efficiency by enabling you to manage all your backup needs from one place.