What is stopping organizations from adopting the cloud?
Spoiler Alert – The same reasons so many have chosen to use it
In June Unitrends conducted our fifth annual survey about how organizations are conducting their data backup and recovery programs. We received over 400 responses to our survey from companies of all sizes. The focus of the research was to see how organizations are adopting the cloud, and if they weren't, why not. The responses (read the full report here) show we have turned a corner as, for the first time 60% of organizations are using the cloud as part of their data and application protection programs in 2019.
The very first question of the survey was if respondents were using the cloud as part of data backup and disaster recovery. Based on their response to the first question, we then directed users and non-users down two different tracks of questions. The users were asked about the advantages the cloud has given them and the specific technologies they have deployed. The non-users were presented a set of questions asking why they had not adopted the cloud and if they had plans to do so. Those different paths then reconnected and both groups were questioned about the results of their efforts to eliminate downtime and data loss so we could see which group was more effective.
Cloud Users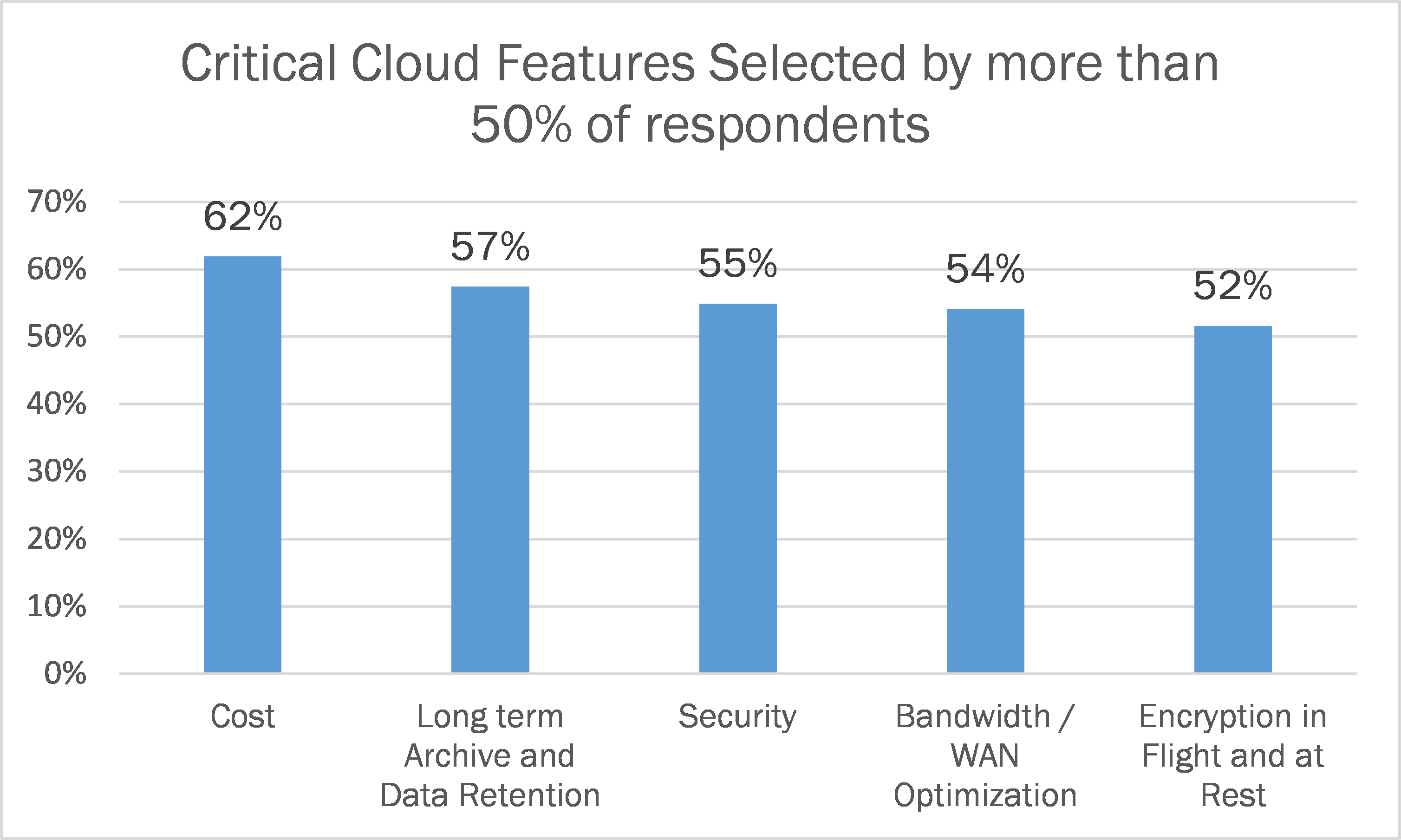 We first tried to identify what current users valued in their cloud deployments. Users were presented with a list of about 8 attributes of the cloud and asked to check as many critical features of the cloud that applied to their deployment. Chart 1 shows the answers selected by more than 50% of the respondents.
For cloud users, "cost" was the number one reason for making the cloud part of their data protection program, selected by almost two thirds of the respondents. This is not a surprise as corporations have chosen to store more and more of their data and backups in the cloud, archiving being the second most valued cloud feature. We found that cloud is fast becoming the preferred location for protecting backups – much higher than tape, rotational media, and growing faster than disk-based backups.
The third most selected feature is the level of security users feel they gain from having their files in the cloud. Cloud providers support security features (also selected as critically important by users) of data encrypted storage and transport.
Rounding out the list is WAN optimization features such as data compression and deduplication, technologies that reduce the size of the files as they move from the enterprise to the cloud.
Cloud non-users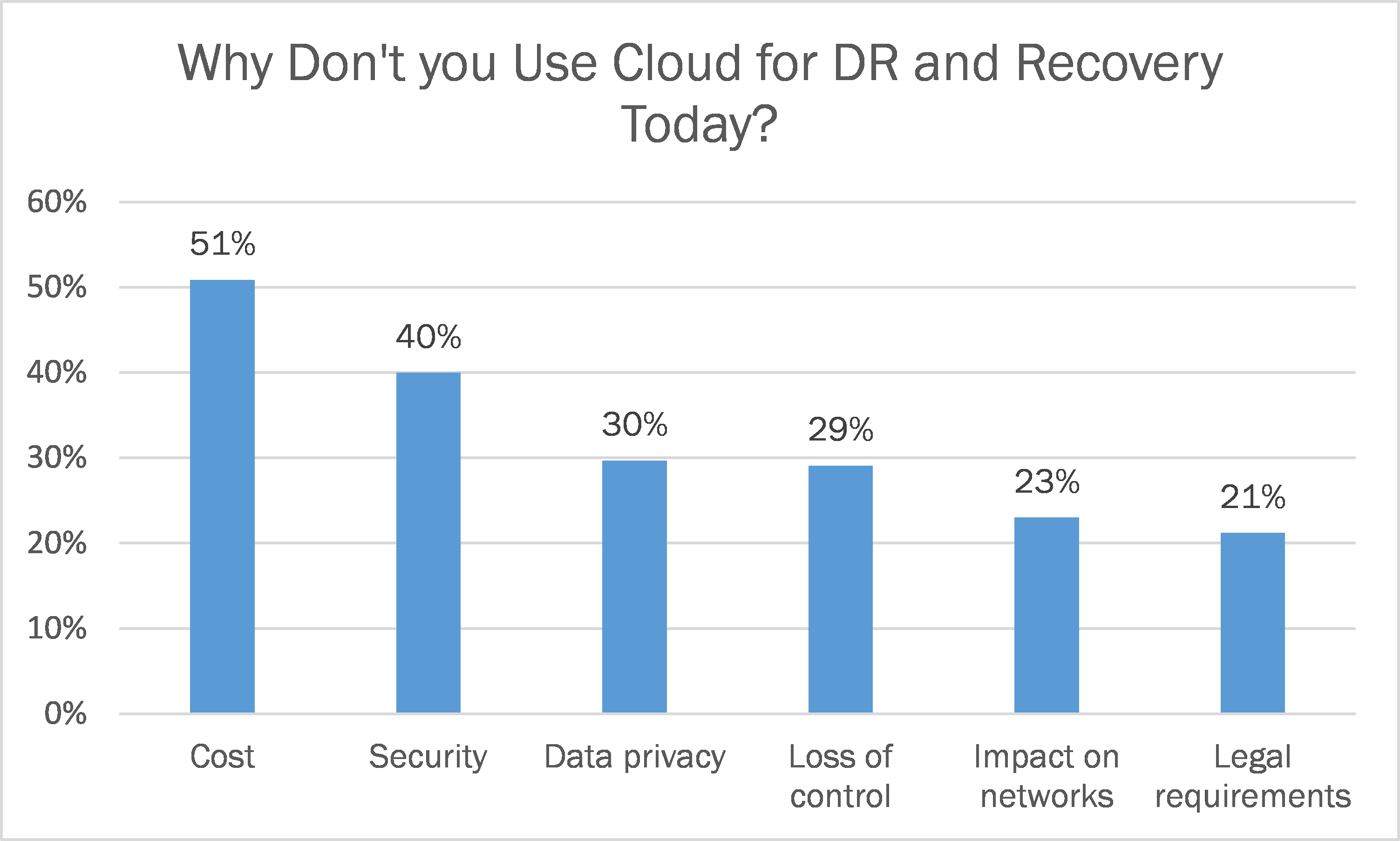 For non-users, we asked why they have not adopted the cloud. Their responses are shown in Figure 2. It is surprising that their responses line up very closely to reasons users have chosen adoption.
Cost was the first reason cited, followed by security (which includes privacy and loss of control), and the negative impact cloud usage would have on their networks.
The final reason cited, legal requirements is a valid reason as some industries have mandates that they must maintain physical control of their data at all times, but this is changing as more and more cloud providers have achieved compliance certifications and are willing to provide Business Associate Agreements and take on their user's responsibility for meeting compliance mandates.
Who are We to Believe?
Generally, you should go with Users as they are speaking from experience. For non-users, some of the resistance is "old tapes" as cloud computing has evolved over the years. The cost of cloud storage continues to drop, particularly for high volumes of storage. Some of the non-users' responses may just be excuses for their managers resistant to change.
Unitrends has created a set of tools that can help non-users gain a better understanding of the advantages the cloud can offer for data protection.
Cost:
We have developed a cloud cost calculator. You can enter the exact volume of data you need to protect, the number of years of retention, if you believe you will need to recover data from a downtime event, and the volume of data to be recovered. We price out cloud storage and recovery for Amazon, Azure, and Unitrends Cloud so you can compare and select the offering that best meets your budget.
Network:
There are multiple ways that Unitrends will reduce the impact of transferring backups over your network to the cloud. First, all Unitrends backups are incrementals, meaning they contain only the data changed after the last backup. The size of each file depends on the change rate of each application.
Secondly Unitrends Recovery Series hardware and Unitrends Recovery software appliances support data compression and deduplication. Unitrends uses Adaptive Backup Deduplication, a content-aware, enterprise data deduplication technique that adapts dynamically based on the content of the data being protected, the data reduction possible for that data using compression, and the data reduction possible. All data reduction occurs during the backup ingest process itself, so there is no impact on the production servers or network. Read more.
Security:
I can tell you that cloud providers spend a great deal of money and have more expertise in security than most enterprises as any breach would be catastrophic to their business. We have heard of no major data breaches from cloud providers, but many from large enterprises such as Equifax, Yahoo, and Marriott. Unitrends Forever Cloud simplifies compliance requirements with tools that help your organization meet a range of industry regulations including SOC 2, HIPAA, and GDPR. Read the Forever Cloud FAQ to learn more about Unitrends Cloud safety, security, and compliance.
Conclusion
If you are using the cloud today as part of data protection, you have a lot of company. If you are not, listen to the users when they tell you why they like it. You are delaying the advantages and positive impacts that cloud users have already gained.